IOS or Android applications are in high demand — probably even your grandma uses one or two, not to mention that they are widely used by businessmen, professionals and customers. No matter what business you are in, most likely it needs a mobile application, too. But how much you need to invest and how can you make up mobile app development cost breakdown?
There is no precise sum — it depends on a number of factors and may vary from $3K to half a million dollars. But we can give you general overview on how mobile application development price is formed.
Rough Numbers
In general, the cost of developing a mobile application for  iPhone/iPad or Android is equal to the extent of work done, and it greatly depends on the scale of the project. So prices for a simple app and for something as elaborate as, say, Uber (or our own alike Taxofon app) will be very different.
Last year Clutch survey of 12 "leading mobile application development companies" calculated that the average cost of app development now is $171,450, with a very wide range from under $30K to over $700K. It's interesting to note that the largest cost driver according to Clutch is not the features of the app but the infrastructure, which includes:
Basic controls
Data storage
3rd party integration
Access to enterprise data
Data encryption
Scaleability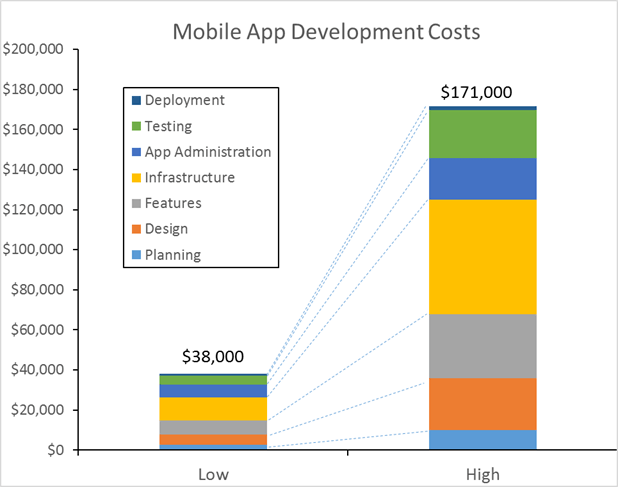 Time & Money
Here are some estimates of time & money you may need when developing mobile applications for iPhone/iPad or Android:
Simple application with basic functionality, no database nor social media integration usually takes 1-3 months to develop. Cost may start from $3K. Example: individual app, good for static website.
More complex app with API, database and social media integration may need 3-6 months of building with a team of 3-5 developers.

Usually, cost to develop mobile app of this type starts from $10K.

Example: data driven custom utility app.
High complexity enterprise or brand level app with extensive database, advanced graphic and commerce integration will require more than 6 months of development and a team of 5-10 developers. Cost starts from $20-40K.
Of course, the prices greatly vary depending on developers you choose — rates are different in different countries. The most expensive ones are in US, Canada and UK ($50 to $250 per hour). The cheapest ones are in India ($10-80 per hour). While in Ukraine the average hourly rate is typically 3 times less than that in the US ($20-150) with the same quality and expertise.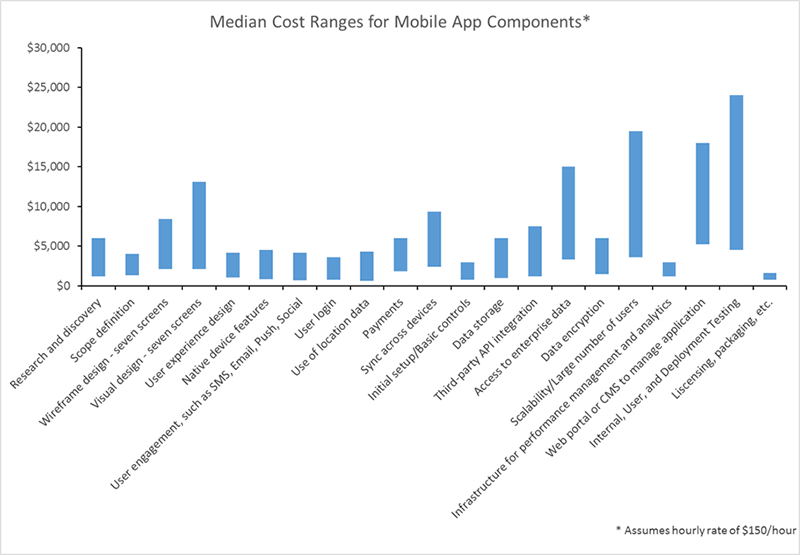 That's all?
All the estimates stated above are rather theoretical. Practice is more complicated, especially if in fact you want to know how much does it cost to build a SUCCESSFUL app?
There is a big difference between just building an application and building a really effective app. The last one may take years to start sidestepping its rivals — and therefore amount of money you cannot predict.
Creation of a successful mobile application takes a lot of considerations, such as concept of the app, its design and user friendliness, monetization method, etc. Its final price will depend on type of the app, the platform, its features and functionalities, and so on. It should have elaborated native UI, backend and other advanced features.
Usually, before getting successful, an app needs from 3 to 10 releases — until costs of obtaining new users become less than the profit obtained from the app. Even for a relatively simple application be ready to spend 3 months for the development of its 1st version, and then 1 month for each new update.
And this is just a very few facts and aspects concerning cost structure of app development and its post-release expenses.
Where to start?
Are you willing to create an iOS or Android app? Contact us and tell us about its idea or send us its documented description or specification. First we will do a rough estimate of the project based on approximate number of hours needed to build the product. After your approval of the estimate we will identify requirements for each stage of the application building and present you more detailed estimate.
We provide full-cycle mobile app development, from analysis to design, development, testing and further updates.
Want to learn more? Just call or drop us a line!
To be continued…